A D A M . S T E N N E T T
O F F . T H E . G R I D
April 12 - May 22, 2008
Opening reception for the artist: Saturday, April 12, 6-8pm
Glenn Horowitz Bookseller
87 Newtown Lane
East Hampton, NY 11937
Tel 631.324.5511
Mon thru Sat: 10am to 5pm & Sun: 12pm to 4pm
info@ghbookseller.com
www.ghbookseller.com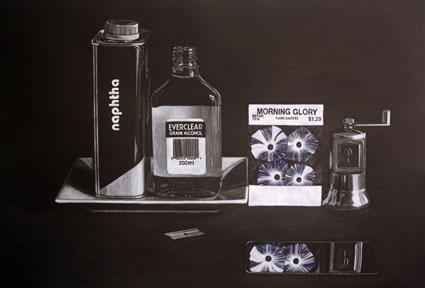 Adam Stennett. Morning Glory Flying Saucers (Ipomoea tricolor). 2008. Acrylic on paper, 30 x 44 inches

Glenn Horowitz Bookseller is pleased to announce an exhibition of new work by Brooklyn-based artist Adam Stennett. This show consists of new works on paper, sculpture and video, all thematically organized around the idea that the way we scrutinize the world determines what we see. This exhibition, entitled Off the Grid, is anchored by a series of still-lifes which re-imagine the possibilities of a stuffy and traditional genre while the video and sculptural works invoke secret government projects, psychedelic drugs, and the culture wars of the 1960s.
The paintings are elegantly composed and beautifully drawn but their outwardly staid appearance is a misdirection. Stennett's real program is to reinvent the tropes of still-life and retrofit the genre for renewed contemporary relevance. To do so he returned to still-life's earliest origins and the Netherlandish masters who gave weight and meaning to each piece of fruit, shank of meat, flower, bowl or bottle they painted, thereby making still life the study of character and narrative by other means. Likewise, Stennett presents objects as if they are to be read as evidence. He paints opium poppies, nutmeg kernels, or hallucinogenic morning glories, with teapots, grinders, strainers, bottles of solvent or grain alcohol. These are materials and tools for the extraction of specific euphoric agents that reside within common plants, seeds and tins of spice. These works are not so much still-lifes as painted recipes, precise visual demonstrations by which the observant may be initiated into all sorts of covert activities.
Traditional still-lifes often aimed to calm by suggesting comfort and domestic tranquility but Stennett makes work that undermines calm. This series encourages the imagination to conjure a monster: part vigilante, part amateur pharmacologist, someone knowledgeable and resourceful, but solitary, secretive, at odds with society and given to violence, self-medication and paranoia. In the end the work defies precise interpretation but it is clear that there is an unseen presence at the conceptual center of the exhibition. Collectively these works form a composite portrait of a contemporary anti-hero, as erratic and volatile as the images themselves are composed and contained. That we are never shown a face, only allowed to sense an elusive presence, makes the experience all the more unnerving.
Accompanying the works on paper are video and sculptural works that take a mischievous look at those who have made research into altered consciousness. The video consists of both vintage footage and contemporary re-enactments showing soldiers, students and others who have been subjects of psychedelic experiments. Two sculptural pieces display team jerseys in orderly upright ranks, as if squared off for a competition. The "teams," MK-Ultra and Millwood, make reference to groups that did early LSD testing; the first is a classified government program and the second a community founded by Timothy Leary in a wealthy town of upstate New York. Such research has provided fodder for conspiracy theorists while generally revealing more about the ideologies of those who formulated the studies than about altered consciousness itself. The notion that methods inevitably color conclusions subtly informs every piece in the exhibition. Pinned to a wall of Stennett's studio is an excerpt from the report of another study--it dryly notes how substances that ordinarily provoke nothing more than dizziness can, when aligned with the ideology and expectations of a particular individual, just as well lead to states of profound euphoria. To Stennett this is a metaphor for the peculiar alchemy by which art transforms images and objects into devices for the expansion of consciousness.
Adam Stennett was born in Kotzebue, Alaska in 1972, grew up in Oregon, and now lives in Brooklyn. His work is in numerous public and private collections and has been widely exhibited in the U.S. and internationally. He is represented by 31GRAND in New York City. For more information about the artist or this exhibition please contact Glenn Horowitz Bookseller at 631-324-5511 or info@ghbookseller.com
Additional information on the work of Adam Stennett can also be found at www.adamstennett.com