A R T . L E C T U R E . A B S T R A C T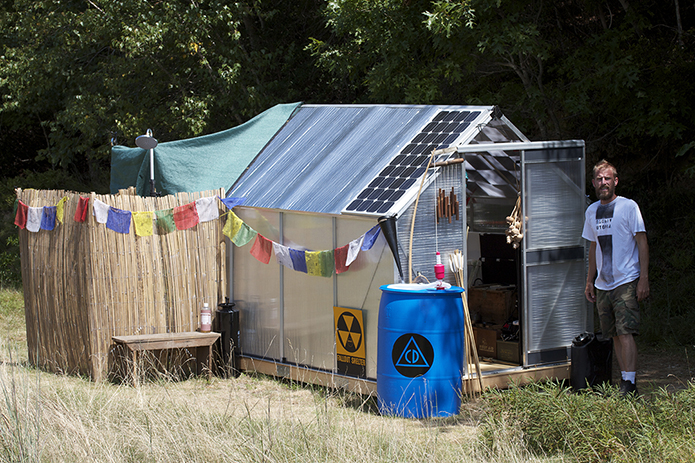 ADAM STENNETT: THE ARTIST SURVIVAL SHACK PROJECT
NATURALLY HYPERNATURAL: VISIONS OF NATURE
International Conference - Invited Speaker
November 14-16, 2014
School of Visual Arts, New York
Based in the artist's struggle to carve out time and space to make artwork in an economically challenging environment, the Artist Survival Shack and the works produced within are a study in what is really necessary for an artist to live and thrive. The difficulty of the task is part of its meaning—it plays on the mythology of the artist, and the idea that personal sacrifice is central to the heroic act of artistic creation. At once both serious and absurd, the Artist Survival Shack calls attention to the outsider/outlaw role artists have traditionally been accorded by society. The project draws an implicit and uncomfortable parallel between the activities of the solitary artist pursuing his vision and those of the lone madman plotting havoc. It raises varied themes- ranging from environmentalism, green design, sustainable agriculture, visionary states, and utopia, to paranoia, separatism, surveillance, security, economic collapse, and apocalypse- and holds them all in an uneasy tension.
A six and a half by nine and a half foot shack was designed and built over a two year period using a repurposed aluminum greenhouse skeleton, four panel wooden floor/clamshell shack transport crate, solar shower, solar panel with battery system, reflective insulation, parabolic mirror, Fresnel lens, LED lights, fifty-five gallon water collection system, vertical grow wall, vermiculture composting system for solid waste and an eleven gallon urine collection system (for later use as nitrogen rich fertilizer).
On August 1, 2013, Adam Stennett began a month-long installation/endurance performance, living and working in the 6.5 x 9.5 foot, self-sufficient, off-the-grid survival shack at an undisclosed location on the East End of Long Island. The supplies, food and water Stennett arrived with were all he had access to, and he did not leave the area for the thirty-one day duration of the performance. A daily journal was kept and can be read at www.artistsurvivalshack.tumblr.com. The artist's mission was to survive physically and spiritually, and to create a new body of work that would be exhibited along with the Artist Survival Shack itself at the conclusion of the performance.
The Artist Survival Shack, in its current state, could remain installed in a gallery or museum setting as a complete and finished artwork. Additionally, at the request of the artist (or owner of the work), the performative aspect of the Artist Survival Shack could be reengaged in another 31-day residency in a new context, public or private, urban or rural. In doing so, the cultural relevance of Artist Survival Shack would continue to evolve with each performance, and the works produced during the residency would remain perpetually attached to the project.
Adam Stennett creates conceptual works from a post 9/11 perspective, investigating issues that affect our global society and their ramifications on the American psyche. Well known for his exquisite renderings in oil and acrylic, Stennett delved into sculpture and performance with Survival Shack, an exploration of an artist's necessities installed at Glenn Horowitz in East Hampton. Adam Stennett has been published in The New York Times, The Los Angeles Times, Frieze, Art In America, Bomb Magazine, BlackBook, New York Magazine, The New Yorker, Harper's Magazine, and Esquire. His work is included in numerous public and private collections and has been widely exhibited in both, national and international exhibitions at venues such as Centro de la Imagen in Mexico City, 31GRAND in New York, The Portland Art Museum, The Chelsea Art Museum, The Hudson Valley Center for Contemporary Art and The National Arts Club in New York as well as at a variety of established galleries. Adam Stennett was born in Kotzebue, Alaska and graduated from Willamette University in 1994, where he returned this September to give the Hogue-Sponenburgh Art Lecture, "Keep Making Art". Based in Brooklyn, New York, Stennett has participated on panels and lectured at Georgetown University, Willamette University, NYU Tisch School of the Arts, School of Visual Arts (SVA) and New York Film Academy.
Naturally Hypernatural: Visions of Nature is an interdisciplinary conference investigating the fluctuating "essences" of "nature" and the "natural" in the 21st century. Each of these terms carries with it an enormity of philosophical questions ranging from the alteration of life itself to dialogues concerning the notion of the Anthropocene, a term used to describe man's intervention into the natural world. The talks presented here will focus on contemporary issues in the visual arts as they intersect with the biological and geological sciences, confirming that nature remains an intrinsically mysterious, ever more mutable entity. At the present time, cellular parts are being remixed in laboratories to create synthetic organisms while geological transformations are forecasting wild swings in weather conditions. Human reproduction regularly occurs in Petri dishes while cucumbers are grown in space. The artificial and the natural now combine to form novel entities, never before seen on earth, while animal species dwindle down to extinction every day. Animals and plants are exhibited as contemporary art, while the real is conflated with the imaginary. Technological advances and their theoretical undertones have migrated into art practice producing New Media installations, Bio Art exhibitions and a global community of art practitioners adapting novel productions to cultural resources. In addition, visual art has become a social practice platform with projects that intersect with urban farming, DIY biology and extremes in performance art. Naturally Hypernatural: Visions of Nature brings together artists, historians, curators, philosophers and scientists to examine and comment on these ideas.
Organized by: Suzanne Anker, Chair, BFA Fine Arts Department, School of Visual Arts, New York and Sabine Flach, Chair, Art History Department, University of Graz, Austria