ARCTIC ARTIST SURVIVAL SHACK ENDURANCE PERFORMANCE
FEBRUARY 1 - 29, 2016 AT PIONEER WORKS, BROOKLYN, NY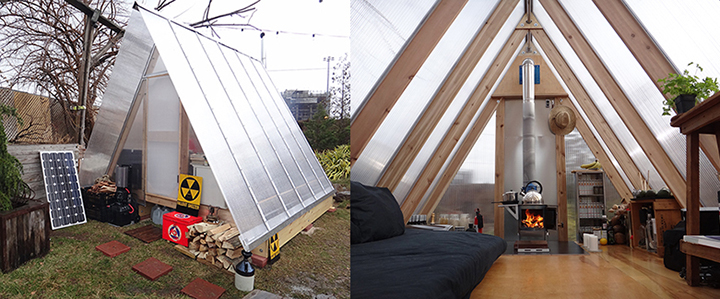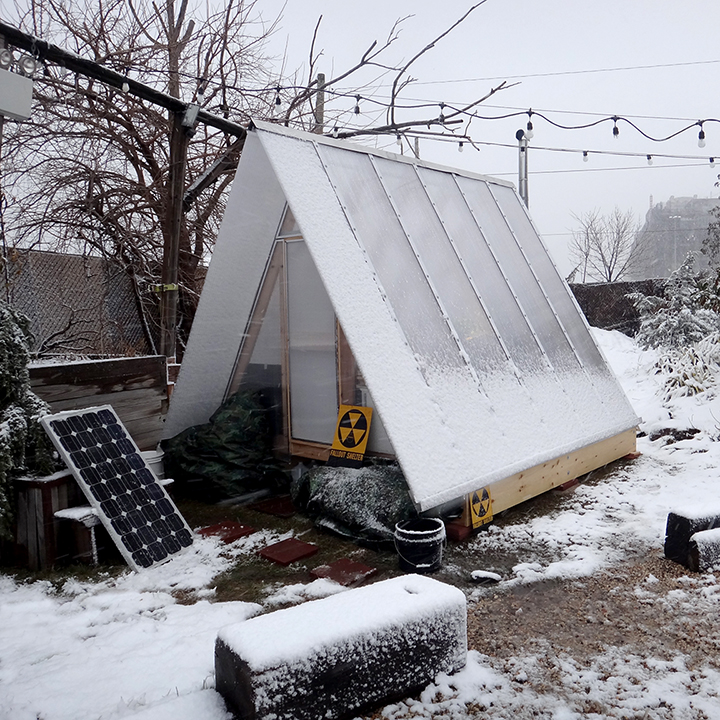 Adam Stennett. Arctic Artist Survival Shack. 2016. wood, aluminum and triple wall polycarbonate structure, foam insulation panels, 100 watt/100ah solar panel generator 12V DC system with 1500/3000W 110 AC inverter, wind turbine, portable woodstove, vermiculture composting toilet, 11 gallon portable urine collection system, various supplies, 10 x 10 feet.
ARCTIC ARTIST SURVIVAL SHACK PROJECT
February 1 - 29, 2016
Adam Stennett delved into installation and performance with The Artist Survival Shack Project in 2013. During his residency at Pioneer Works Stennett raised the level of difficulty and explored new materials and challenges with a dead of winter version called The Arctic Artist Survival Shack Project. The Arctic Artist Survival Shack served as a proving ground for alternative systems of physical survival, spiritual survival and creative expansion. Stennett lived and worked in the 10'x10' self-designed shack outdoors at Pioneer Works during the (historically coldest) month of February. Systems implemented included solar, wind power, water collection, water filtration, vermiculture composting of waste and dumpster foraging. The supplies, food and water Stennett arrived with was all he had access to. He did not spend any money or enter any buildings other than the shack. His mission was to survive physically and spiritually, and to create. During his one-month stay Stennett offered Sunday workshops demonstrating and teaching some of these systems for survival as a part of School of Apocalypse (founded in 2015 by Stennett, Catherine Despont, Tal Beery and Eugenia Manwelyan)
PIONEER WORKS, 159 Pioneer Street, Brooklyn NY 11231 http://pioneerworks.org/
for more information http://pioneerworks.org/residency/adam-stennett/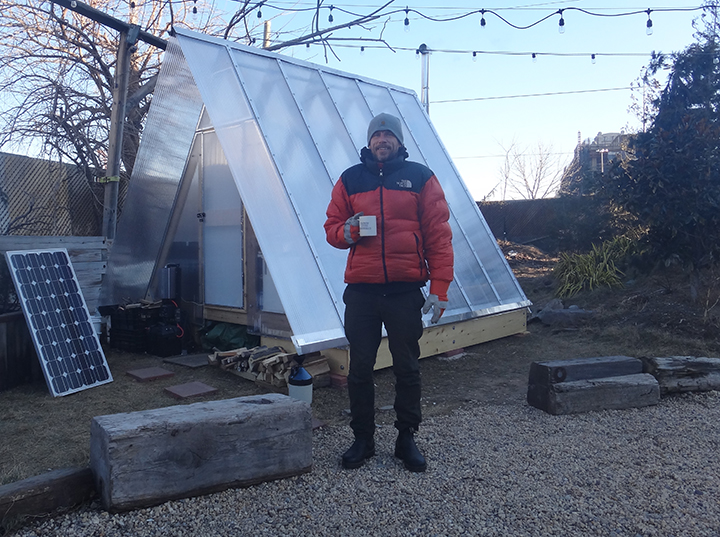 Day 14 (February 14, 2016) Adam Stennett having his morning coffee at the Arctic Artist Survival Shack in one degree Farhenheit conditions. (coldest Valentine's Day on record for Brooklyn, NY)
RELATED PRESS AND INTERVIEWS

Nussbaum, Jake, Adam Stennett, Arctic Artist Survival Shack, Clocktower Radio, Radio Show, Pioneer Works Radio Channel, February 29, 2016. http://clocktower.org/show/adam-stennett-arctic-artist-survival-shack

Saltz, Jerry, Adam Stennett, New York Magazine, Critic's Pick, February 21, 2016.